The comprehensive analytics solution for hotels
Audit, Set-Up, Benchmark and Report. Join Hotel Benchmark below or view our analytics products.
Join Now
;
A growing community of over 850 hotels in more than 80 countries harnessing the power of analytics to boost results.
It doesn't matter which stage of the analytics journey you are at, our team can support you at every step to uncover insight that will deliver real value to your business.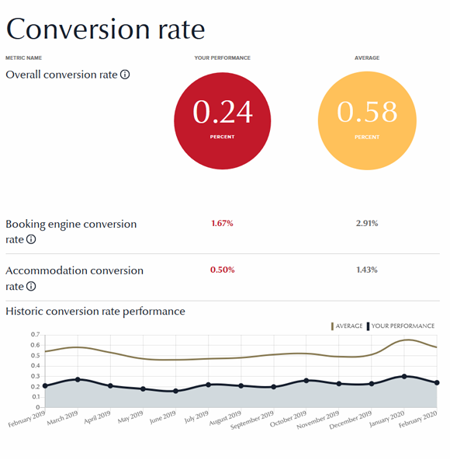 "Can benchmarking help our hotel boost results?"
Yes, a data-driven approach to your digital strategy can help remove  guesswork from your on-line marketing. Hotel Benchmark reports provide hoteliers with a host of website and digital metrics allowing you to focus efforts in the right places.

"Will an analytics audit improve our data collection?"
Our Analytics certified team will audit your Google Analytics and Google Tag Manager set-up to identify where and how you could be improving your data collection and ensure that it is reporting on the metrics that matter most to your hotel.

"Will I need GA4 for my hotel?"
Google has already began phasing out Universal Analytics. You will require a GA4 property to join Hotel Benchmark. Our Google Analytics certified team has created a bespoke installation of GA4 especially for hotels.

"How can I learn more about Google Analytics?"
Sign-up for one of our Google Analytics training courses, created exclusively for the hotel, travel and hospitality industry. You'll be equipped with all the knowledge and skills you need on the newest version of the Google Analytics platform - GA4.

"How is my Booking Engine performing?"
Google Analytics gives you insight into website visitor behaviour, but essential booking engine data is overlooked. Our enhanced GA4 reports provide unique behavioural and search data to build a more comprehensive picture.
How it works
1
Sign up
IT'S EASY AND FREE TO JOIN
Benchmark your website performance in exchange for sharing your anonymised data with our community.
2
Connect
GOOGLE ANALYTICS ACCOUNT
Just log in to Hotel Benchmark with your Google Analytics account. It's simple and secure.
3
Start
ENJOYING YOUR FREE REPORTS
That's it! Your report will be created as soon as we can verify your Google Analytics account.
Don't just take our word for it...

Gemma Gilbert Marketing at Careys Manor Hotel
Great to finally have an intelligent benchmarking tool within the hospitality industry that focuses on digital marketing insights. The reports have helped to highlight areas of success within our properties and also potential growth opportunities.

Natalia Rakowska Head of Marketing at Royal Lancaster Hotel
We use Hotel Benchmark to monitor our online performance and it helps to shape our digital strategy and determine areas of focus. It is really helpful to see all the important statistics in one place.

Roberto Pajares General Manager at The Ampersand Hotel
Hotel Benchmark is a really helpful tool to the team. It's an innovative idea that's been long-overdue in the industry. Having the ability to see how our digital marketing measures up has helped better steer our activity.

Martine de Geus Director of Marketing & PR at The Beaumont
Hotel Benchmark is a useful and long overdue tool that gives valuable benchmark comparisons specific to our industry and location. Measuring website performance in relation to competitors aids strategic decision making and provides solid justification for ongoing investment in our website.