European Hotel Website Performance
We take a look back at how sub-continents have been performing over the last twelve months.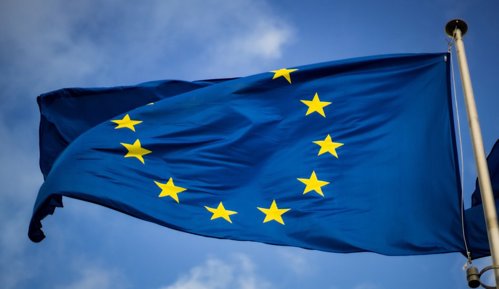 It has been a turbulent 12 months across all European markets as hotels battled with the emergence of Omicron at the end of 2021 and growing uncertainty around travel. The arrival of yet another new Covid variant brought more upheaval and a surge in cancellations. While Covid restrictions were largely relaxed across most European countries at the end of 2021, the war in Ukraine alongside rising inflation rates and mounting pressure on household incomes has led to yet more instability in Q1, 2022.

Northern Europe has consistently remained ahead of its neighbours over the last 12 months. When looking at hotel website sessions, the traditional summer season saw a peak driven largely by strong performance in the UK market peaking in August. In many Northern European countries hotel website sessions were 50% higher than for the same period in 2019.

Website sessions in other European regions have remained pretty stable, dropping off with the arrival of the Omicron variant and picking up at the start of 2022. 
When looking at hotel bookings/transactions across Europe, Northern Europe again outperforms its neighbours with average monthly transactions peaking at 158 in January and remaining high throughout February and March. Western Europe has continually enjoyed a higher number of hotel bookings than hotels in Southern and Eastern Europe across 2021 and into 2022.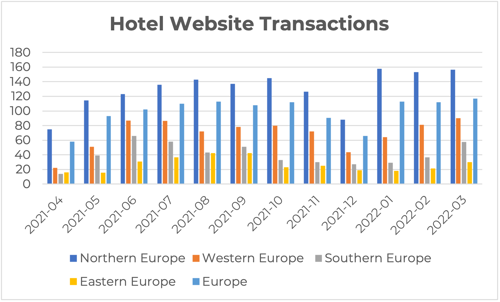 Individual countries with stricter measures imposed to halt the spread of Covid-19 have seen fewer hotel bookings. One example is Austria where measures impacted their winter tourism season. 

Conversely, countries like Croatia which was one of the first to remove entry restrictions and allow travellers that could demonstrate vaccination status to enter enjoyed results that surpassed 2019. Transactions were up 160% on 2019.

We will continue to monitor and hotel website performance across Europe amid the unrest in Ukraine and bring you regular updates, meanwhile our thoughts are with all of those that have been affected by the tragic events unfolding in the country.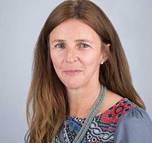 Katrina Bio
Katrina has been working in the hospitality industry since 1993, more recently at Hotel Benchmark, uncovering insight from a wealth of data.