Harnessing the power of local SEO
Harnessing the power of local SEO
COVID-19 fundamentally changed how and where we search on-line. When local or national lockdowns meant we couldn't travel far more of us turned to local businesses and with the trend looking very much set to continue, we look at how local SEO can help.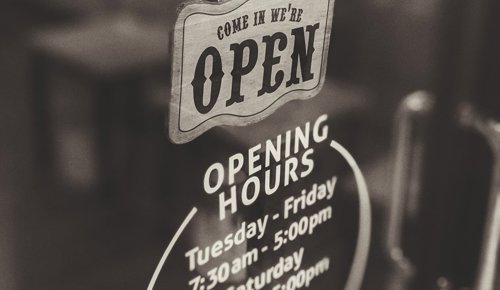 THE POWER OF LOCAL SEO
The local search marketplace is extremely competitive and it's very important to ensure you're using local Search Engine Optimization (SEO) tactics to compete for visibility and help drive more qualified traffic and transactions to your hotel website. In 2020, 53% of all searches performed on Google were local i.e. 'near-me' type searches.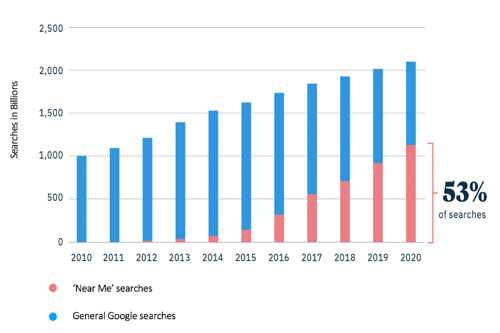 Local SEO allows your hotel to be present in searches at the precise moment that a customer is looking for you and relies heavily on appealing to local audiences instead of international ones that may not have started travelling. Some hotels may not realise that they could also be attracting more customers from outside their local area using local SEO. 
GET YOUR HOTEL LISTED ON MULTIPLE LOCAL CITATION SITES
One of the most fundamental pieces of information that a search engine wants to get right is your location. For Google, the main source of your location information is your property's Google My Business (GMB) listing. But did you know that Google also verifies the accuracy of this with hundreds of other online sources that contain basic information about your hotel. The more sources that can authenticate your existence and location with Google the better. And it doesn't stop there. To achieve a good local SEO performance, it is essential that your address is 100% consistent across every single one of these platforms. If it's not and Google has doubts about your location, it will have less confidence in displaying your hotel at the top of the 'pack'.  
Local search results for hotels display a selection of the top four most relevant results often referred to as either the hotel 'four pack' or 'local pack' underneath any paid ads and alongside a map with pins giving their location. Underneath then follows a list of organic results.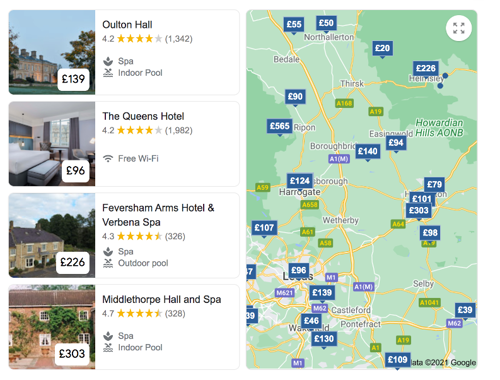 The four results to the left of Google's map get the majority of clicks. And for searches made on mobile devices where they take up even more of the space on smaller screens, undoubtedly it's more. 

MEASURING LOCAL SEO
You can measure your local performance in Google by viewing the 'Insights' tab in your Google My Business listing account.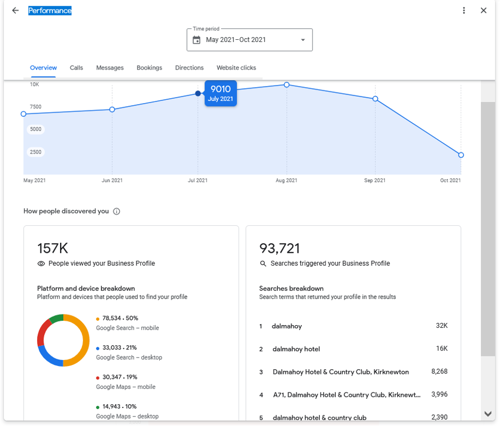 However, in Google Analytics, the results of your local SEO efforts are combined within your organic channel performance. You can track your local performance separately in Google Analytics by adding a tag to the URL you add in your Google My Business account. Something like this will work:-
https://www.your-hotel.com/?utm_source=GMB&utm_medium=organic&utm_campaign=gmb-local
For more details on how to tag your URL see here.
You can then view local performance in Google Analytics by clicking 'Acquisition' tab then looking at 'Campaigns'.
TOOLS TO HELP
Taking control of a highly-fragmented digital ecosystem can be a daunting task, especially when you are faced with making changes to multiple citation sites but there is help at hand. Centralised platforms like Uberall offer easier management and optimisation of your local listings and provide a consistent feed for your hotel details creating a trusted 'near me' brand experience. For example, a change in opening times for one of your restaurants can be updated easily making one simple edit in Uberall, within hours, the change synced across numerous sites including Google, Bing, Facebook and others. 
Uberall allows its users to distribute and synchronise business details to numerous important local directories, GPS & navigation services, review sites and more. 
A comparison across a set of similar hotels showed a significant increase in Google Local traffic for those on the Uberall platform between April and August this year.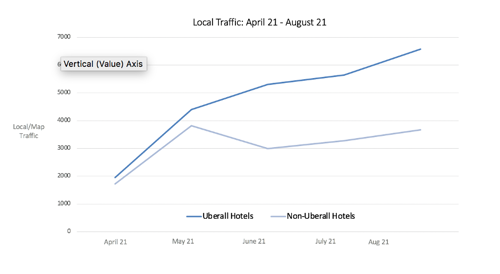 If you would like to learn more about improving your local SEO and Uberall services, please contact us here and one of our experts can help.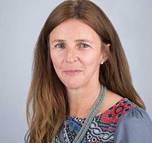 Katrina Bio
Katrina has been working in the hospitality industry since 1993, more recently at Hotel Benchmark, uncovering insight from a wealth of data.