London hotel performance boosted by international arrivals
Hotels in London continued their month-over-month performance improvements in May, lifted by international arrivals and a return of corporate spend to the city.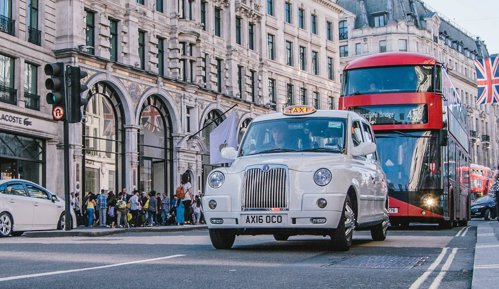 The traditional Eid holiday saw a surge in visitors from the Middle East at the beginning of May and families from across the UK used half-term to make the most of London's many attractions. The Chelsea Flower Show is always a big driver for the city along with the start of the outdoor festival season and new exhibitions.
ACROSS THE BOARD IMPROVEMENTS ON APRIL
Hotels saw growth in all on-line metrics last month excluding average monthly bookings which dropped from 156 in April to 142 in May. While the average number of transactions  has dropped off slightly, higher room rates are driving up average on-line spend and revenue and helping to mitigate any set-back to profitability as a result of fewer rooms being sold. Sessions record the total number of visits to a hotel's website, and for London hotels in May sessions were up on April, although not yet at October's peak of 26,000.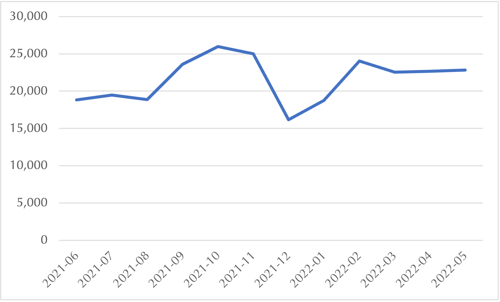 Mobile still accounts for the biggest share of sessions. In May, 55% of website visitors browsing London hotels were on mobile devices compared to 42% on desktop, with the same trend looking very much set to continue.
ON-LINE REVENUE
Website revenues recorded the biggest uptick in May, +7% on April and a massive +32% on the same month in 2021.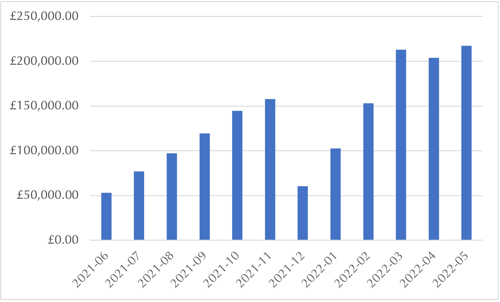 While average monthly revenue for hotels across star-categories in May was £217,304, 5 star hotels in London enjoyed average website revenues of £248,111. 
HOTELS RE-INVESTING ON-LINE
The majority of luxury hotels in London stopped their investments in online marketing as a result of the pandemic, but May's results suggest that hotels in London are now fully re-investing on-line.

Average Google Ad spend in May was £2611, on par with May, 2019 and +115% on May, 2021.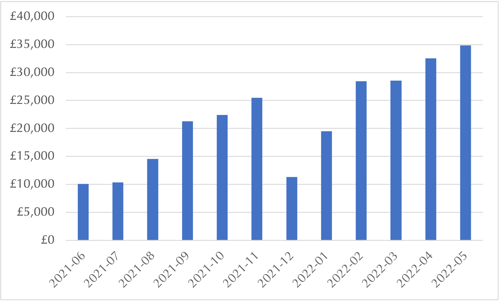 Meanwhile, Google Ads revenue earned by London hotels in May outpaced Google Ads revenues for the same month in 2019, and 2021 at £11,985 and £15,562 respectively, +50% between May, 2019 and May, 2022.
METASEARCH
Results in May are proving that metasearch (as a relatively new channel) shouldn't be overlooked. For London hotels the results in May were impressive.
·      Over 3.8million impressions driven (+36.1% MoM)
·      Average booking value increased to over £1,200 (+3.6% MoM)
·      Total clicks increased 7.5% MoM
·      ROI 13:1 
You can read more about metasearch and how to compete directly with OTAs to drive more direct bookings from our sister company, 80 DAYS here.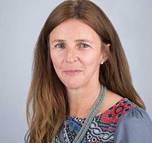 Katrina Bio
Katrina has been working in the hospitality industry since 1993, more recently at Hotel Benchmark, uncovering insight from a wealth of data.