We kick off the first of our city spotlights in Dubai where positive signs of recovery across digital and website performance metrics began to emerge at the end of 2020.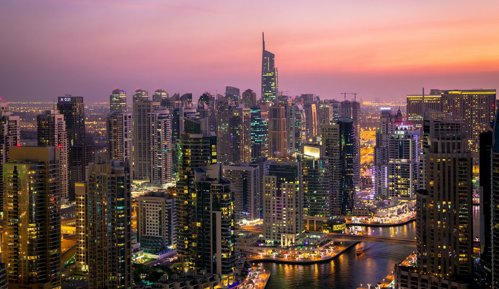 While most European cities remain under lockdown and hotels closed, we are kicking off the first of our city spotlights in the Middle East where positive signs of recovery across digital and website performance metrics began to emerge at the end of 2020. Amid a global pandemic and international quarantine measures, Dubai's hotel industry, like many other cities suffered from collapsed traveller demand in early 2020, coming to a relative standstill in April as flight schedules were reduced and cancelled from many of its key feeder markets. 
MONTHLY WEBSITE VISITS
The average number of monthly sessions dropped to 2,655 in April and began tracking upwards thereafter. When Dubai reopened its borders to visitors in July last year, there was an immediate uptick in sessions which remained relatively stable throughout the remainder of the summer months.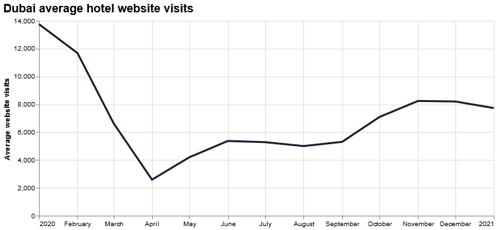 When comparing Dubai hotel website sessions 2020 v 2019, a similar picture emerges with traffic in 2020 up to 80% below that of 2019 at the peak of the pandemic in April, peaking in January, 2021.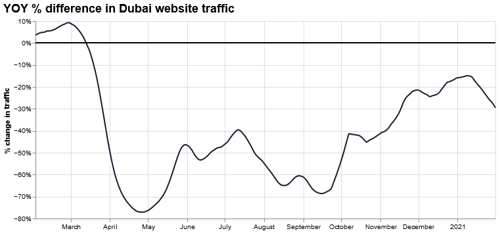 WEBSITE REVENUE
In November when the United Arab Emirates introduced an exemption on visitors from GCC countries (Bahrain, Kuwait, Oman and Saudi Arabia) required to take a COVID-19 PCR test prior to their departure along with travellers from Germany and the UK, Dubai's hotels saw some of the best performance levels since the start of the pandemic, notably in average monthly revenue.
The UAE also became one of several destinations on the UK government's travel corridor list, meaning British visitors did not need to self-isolate on their return which helped to stimulate increased demand.
Data from Hotel Benchmark in November showed Dubai hotels recording their highest website revenue since the start of the pandemic in early 2020.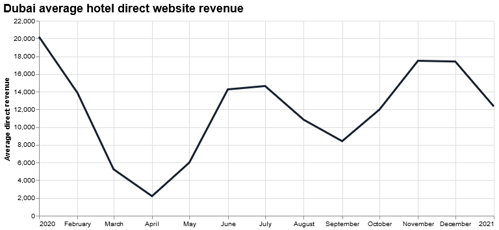 Quarantine-free status was lost from 4am on 12th January, in response to what British government sources called "a significant acceleration" in infections being imported to the UK from Dubai, after which both sessions and revenue began to slow.
CONVERSION RATE
Another key website performance metric that is showing improvement with levels matching those enjoyed before the pandemic is conversion rate.
Conversion rates across 3- 4- and 5-star hotels in Dubai was up from 0.92% in December 2019 to 1.1% in December 2020, and conversion rate on mobile continued to grow showing an almost 50% increase between December 2019 and December 2020.
If you are not already using Hotel Benchmark, and would like to find out more, just drop one of the team an e-mail at; hello@hotelbenchmarking.com or sign up for your free monthly report here.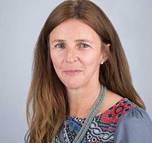 Katrina Bio
Katrina has been working in the hospitality industry since 1993, more recently at Hotel Benchmark, uncovering insight from a wealth of data.