Hotel Benchmark
Deciphering data from your Google Analytics account can be confusing and a little overwhelming especially if you aren't an experienced digital marketer. Knowing which metrics to focus on adds even further dilemma. We bring the most important metrics from Google Analytics straight into your Hotel Benchmark dashboard alongside your competitors so that you can see how your direct channel is performing in relation to the market.
Hotel Benchmark provides invaluable, free insight that allows hoteliers to observe their own direct channel performance within the context of the marketplace and their competitors to gain a holistic view and identify areas for growth and opportunity.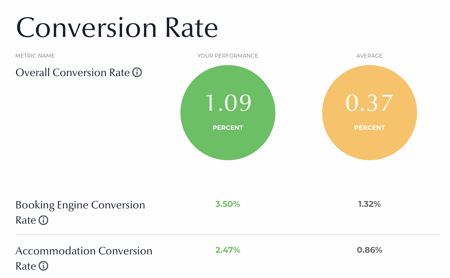 "What is a good hotel website conversion rate?"
Most hoteliers want to know exactly how many of their website visitors are actually booking direct. We can tell you that the industry average is between 1.7% and 2%, but when you're part of the benchmarking community you can compare your hotel conversion rate with lots of other hotels in your competitor set.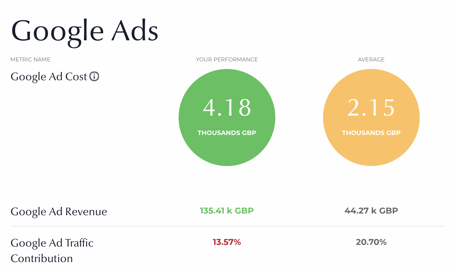 "Is our online paid advertising working?"
Hotel Benchmark allows you to compare your Google Ad spend and revenue alongside other hotels to help put your paid advertising into context. With insight like this, it's easy to see if your marketing strategy needs tweaking and to provide opportunities for more direct bookings.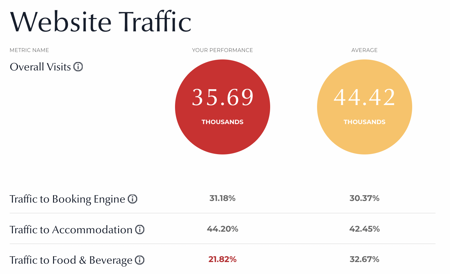 "How much traffic should our website be getting each month?"
Stepping back and analysing the performance of your website is vital. Metrics like website traffic only start to tell a story when they are monitored over time or compared with others and understanding which pages of your website, visitors are spending time can help in strengthening pages and getting more conversions.
Book a demo
If you would like to talk to one of our team or learn more about how Hotel Benchmark could help boost your direct channel results, simply arrange a demo.
Arrange a demo
You might also be interested in...
Google Analytics (GA4) Set Up
Google Analytics Training